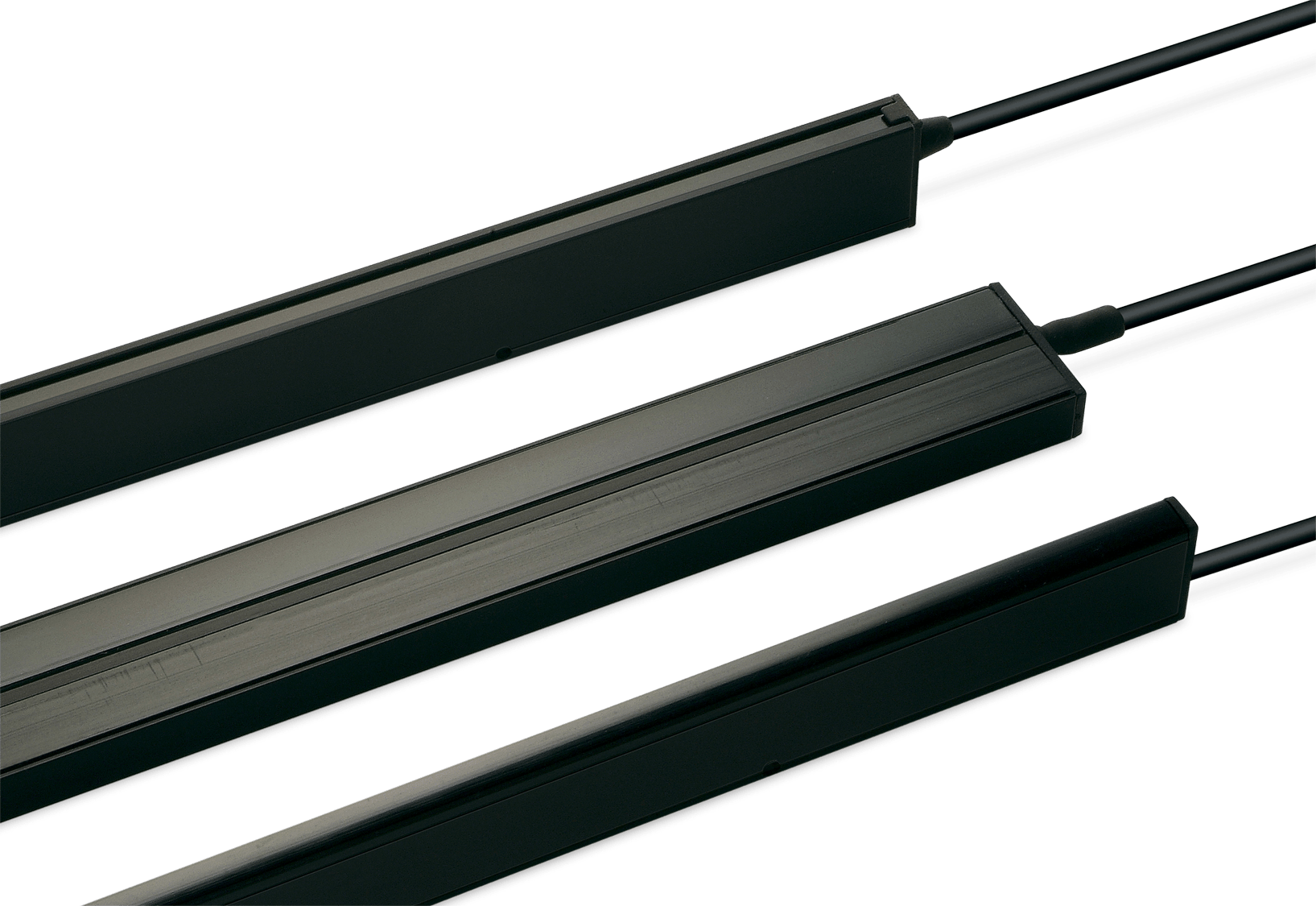 0-4 m sensing range
34 to 194 cross scanning beams
Active height of 650 mm to 1800 mm
Detector length 850 mm to 2100 mm
Flexible cable connection
Automatic sensitivity adjustment
Slim line (10x28 mm), leading edge (37,5x13 mm) or water-resistant slim line (12x30 mm) detector
Power, output and signal status indicators
12-36 V dc supply voltage
5 wire, solid state relay output
Test input
Time-out function via wire connection
Static and dynamic applications
Compliant with elevator safety code EN 81-20
SG 1

SG 1 with cross scanning light beams

Light curtain A-profile shown with indicators on
The SG 1 light curtain system consists of a self-contained transmitter detector, SGT and receiver detector, SGR, which are to be positioned opposite of each other. The detectors are housed in a sturdy aluminium profile available in a slim line design (10 x 28 mm), leading edge design (37,5 x 13 mm) and a water-resistant slim line design (12 x 30 mm).

The SGR is supplied with a 12-36 V dc power supply with a 5 wire, solid state relay output, with a choice of light or dark function. The test input in the SGT may be used for either disabling or enabling the transmitting power temporarily for test purposes.

The detectors also include time-out function, which allows a pre-set number of none-adjacent channels to be automatically ignored if permanently obstructed for 10 seconds or more. This function can be enabled or disabled via the connection wire.

The advanced automatic signal-tracking (AST) feature ensures that no onsite set up or adjustments are required. The signal level of each individual channel is adjusted automatically compensating for misalignment and contamination during operation. Transmitter and receiver detectors are optically synchronised. The system can be used both in static and dynamic installations.

Both transmitter and receiver detectors are protected against reverse polarity of power supplies, control input and output signals. The output is also protected against short circuit and inductive loads.
All products include a 3-year worldwide warranty.
Product Finder
Find the Telco product type you're looking for with the help of criteria search filters in the Telco product finder