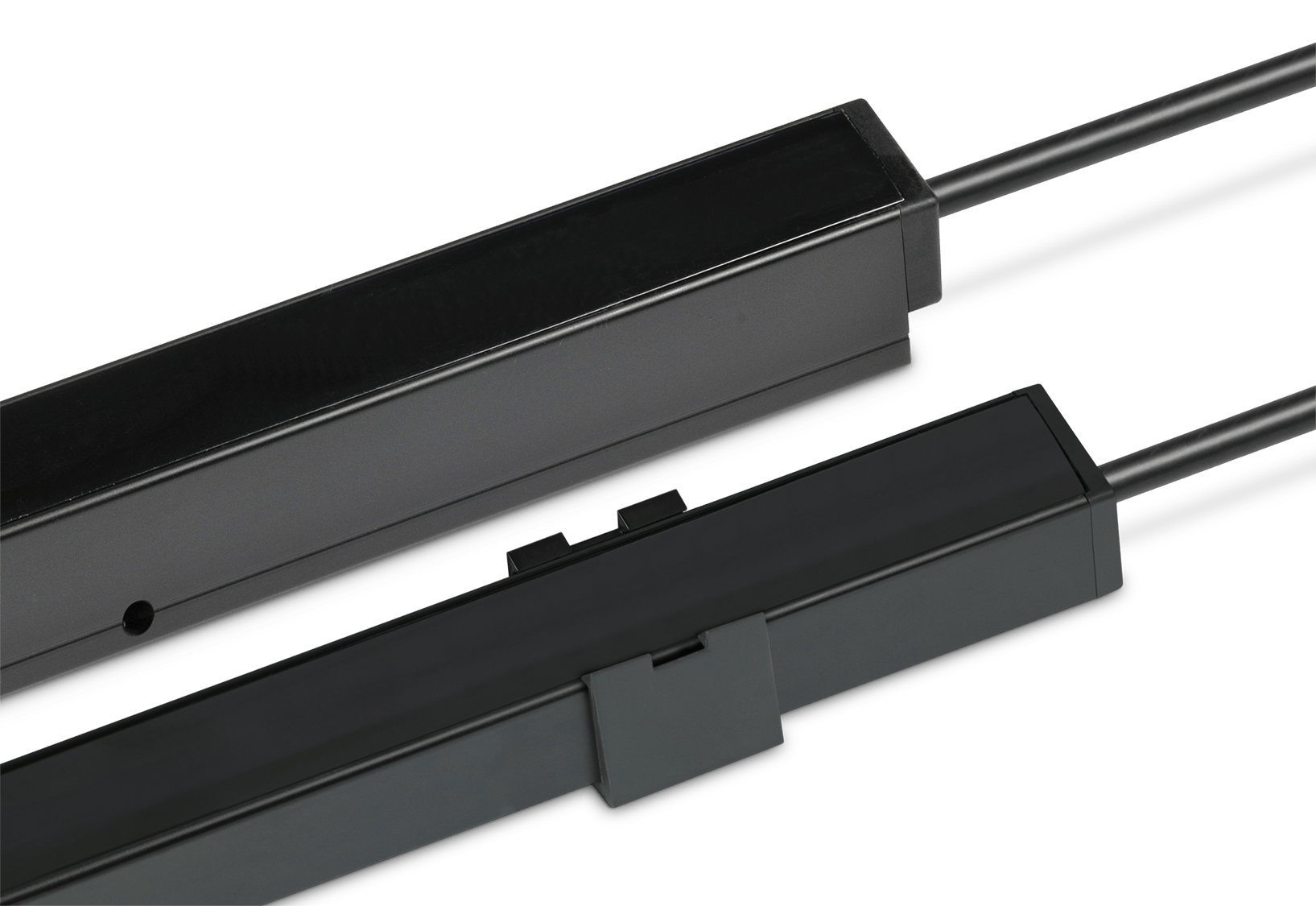 Self-Contained Light Curtains
Light Curtains
---
1-10 metre sensing range
16 to 56 parallel scanning beams
Active height of 720 mm to 2520 mm
Length of 868 to 2668 mm
3 different channel placement models
Cable or plug connection
Automatic sensitivity adjustment
Compact aluminium IP67 housings
Power, output and system status indicators
12-30 V dc supply voltage
5 wire solid state relay output
Test input
Dynamic sequential blanking function
SG 13

Clip snap-in mounting of K-profile

Rail mounting of G-profile

Light curtain K-profile shown with LED indicators on
The SG 13 light curtain system consists of a self-contained transmitter, SGT and receiver, SGR, which are to be positioned opposite of each other. The detectors are housed in compact, but sturdy, aluminium profiles, available in two different designs.
The system is supplied with a 12-30 V dc power supply. The SGR includes a 5 wire, solid state relay output. The test input in the SGT may be used for either disabling or enabling the transmitting power temporarily for test purposes.
The advanced automatic signal-tracking (AST) feature ensures that no onsite set up or adjustments are required. The signal of each individual channel is adjusted automatically, which compensates for misalignment and contamination during operation.
Transmitter and receiver units are optically synchronised.
The SG 13 series features the Dynamic Sequential Blanking Function which allows the detectors to be positioned in the guide tracks of an industrial door, where the door travels directly in front of the protection area, interrupting the beams sequentially from top to bottom. The special feature ensures that the system can distinguish between the closing door and an object by ignoring the beams that are obstructed by the moving door whilst leaving the below remaining beams active to detect an object below the door edge.
Both the transmitter and receiver units are protected against reverse polarity of power supplies, control input and output signals. The output is also protected against short circuit and inductive loads.
All products include a 3-year worldwide warranty.

Product Finder
Find the Telco product type you're looking for with the help of criteria search filters in the Telco product finder