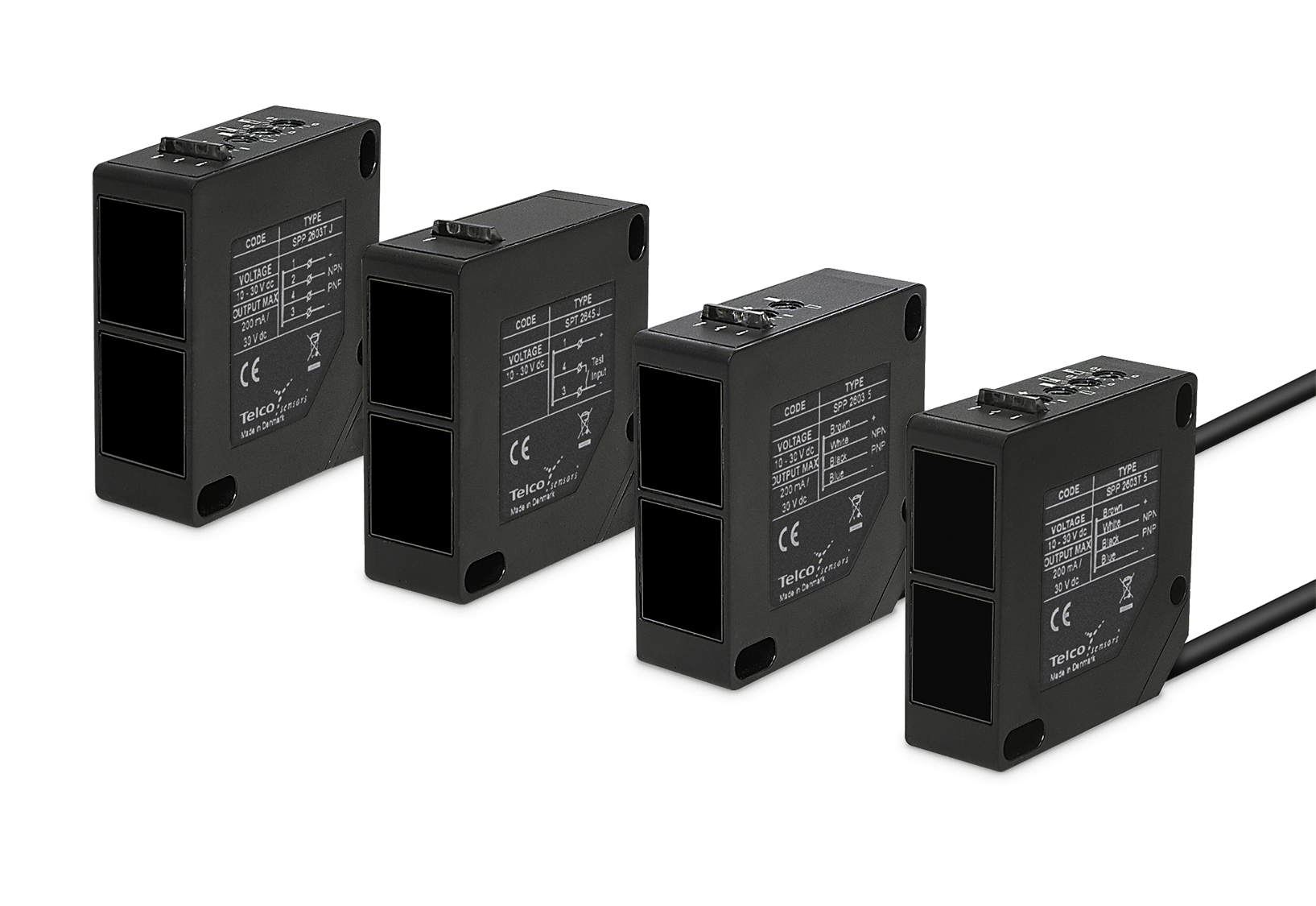 Diffuse Proximity
Photoelectric Sensors
---
Operation mode and max sensing range:

Thru-beam: 0-45 m
Diffuse proximity: 0-5 m
Retro reflective: 0-12 m
Polarised retro reflective: 0-10 m
Background suppression: 0-2 m

Compact rectangular housing (50 x 50 mm)
Cable or rotatable plug connection
Sensitivity adjustment via potentiometer
Switch selectable light or dark function
Adjustable on/off time delay
Power, output and signal level indicators
10-30 V dc or 12-240 V ac/dc supply voltage
4 wire, NPN/PNP transistor output or 5 wire relay output
SP 2000

SP 2000

Rotatable plug of SP 2000 series
The SP 2000 series consists of a self-contained transmitter SPT and receiver SPR, which are to be used in thru-beam mode, an SPP for diffuse proximity, SPRR for retro-reflective, SPPR for polarised retroreflective and SPBS for background suppression. All are offered with sensitivity adjustment via integral potentiometer with either cable or 180 rotatable plug connection.

The complete series is available either as a 4 wire, NPN/PNP transistor output with 10-30 V dc supply voltage or as a 5 wire, relay output with a 12-240 V ac/dc supply voltage both offering switch selectable light or dark function and potentiometer adjustable 0-10 sec on/off time delay.

The test input in the 10-30 V dc, SPT is intended to be used for disabling or enabling the transmitter power temporarily for test purposes or for multiplexing applications.

The dc series is protected against reverse polarity of power supplies, test input and output signals. The output is protected against short circuit and inductive loads.
All products include a 3-year worldwide warranty.
More in the SP 2000 Series
Product Finder
Find the Telco product type you're looking for with the help of criteria search filters in the Telco product finder