SGC 11
SpaceGuard™ SERIES
---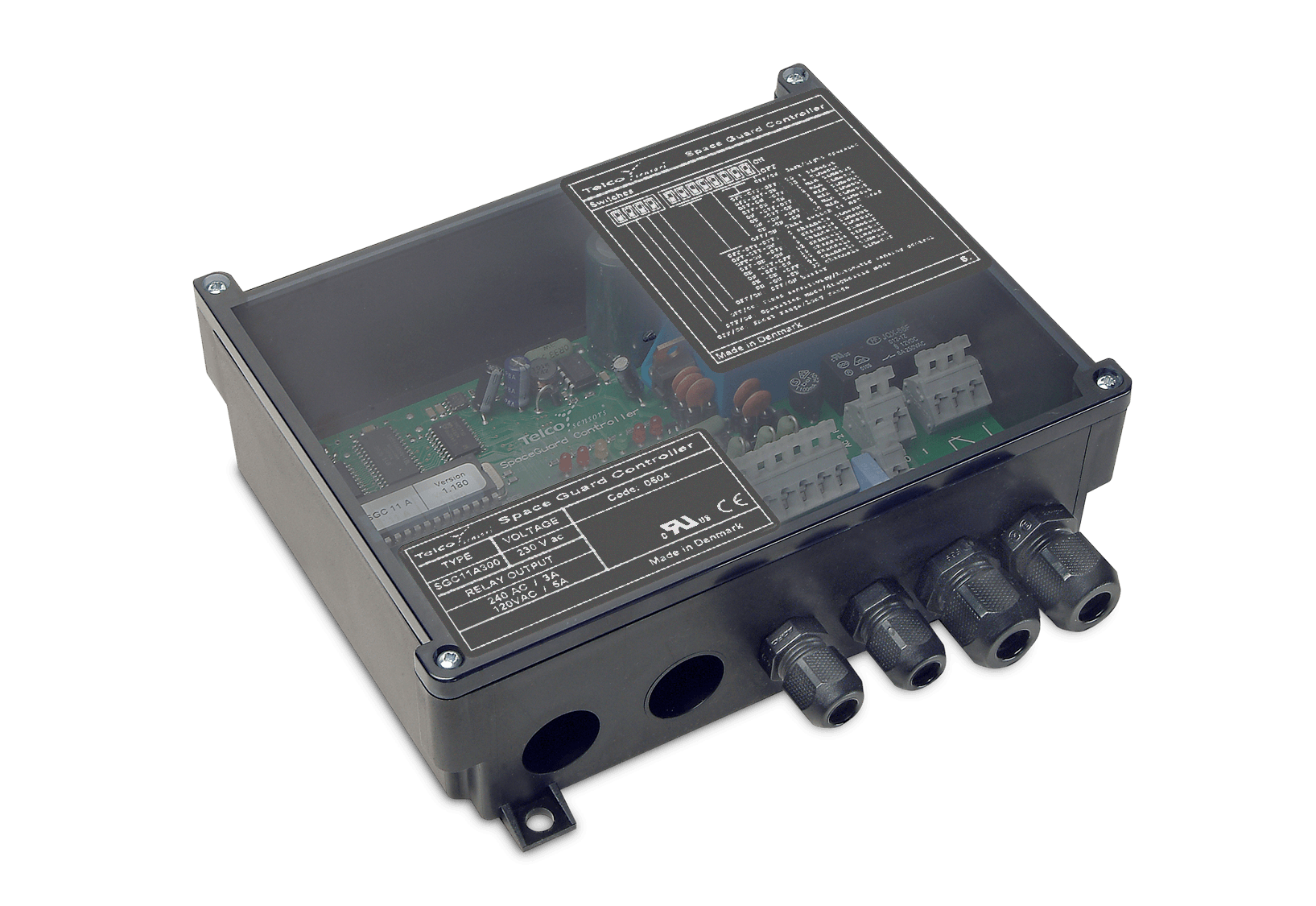 Remote Light Curtains
Light Curtains
---
5 m sensing range
230 V ac, 115 V ac or 24 V ac – all with 24 V dc supply voltage
Manual and automatic sensitivity adjustment
Automatic detector test
1 relay and/or 1 transistor output
Switch selectable light or dark function
Switch selectable long or short range
Switch selectable buzzer
Selectable time-out function
Power, output, alarm, time-out and detector failure indicators
Alarm and time-out output
Plug connection to detectors
SGC 11

SG 11 detectors operate in conjunction with SGC 11 controller

SGC 11 without cover lid
The SGC 11 is to be used in conjunction with a set of light curtain transmitter detector SGT and receiver detector SGR, from the SG 11 series.

The series offers automatic and manual sensitivity adjustment via an integral potentiometer. Output can be selected from either a relay or NPN transistor output. Light or dark function and long or short range is switch selectable. The time-out function is switch selectable for 4 to 32 channels, which allows the selected number of channels to be automatically ignored if permanently obstructed for a pre-set period of time, switch selectable from 0.3 to 10 minutes.

The microprocessor controlled detector test ensures that the system will automatically detect and indicate a faulty transmitter or receiver detector, cable break or electrical failure – during operation. The output relay will revert to safe position and the failure will be indicated by the detector failure indicators or alarm indicator. The controller is available with a timeout and alarm NPN transistor output.

The time-out output is activated when one or more channels are timed out, and the alarm output is activated when more than 75% of the channels are timed-out or when the controller detects a system fault. The controller features a buzzer, which may be activated to indicate a signal output and/or an alarm.
All products include a 3-year worldwide warranty.

Product Finder
Find the Telco product type you're looking for with the help of criteria search filters in the Telco product finder