SM 9000 High-Power Photoelectric Sensor
Jul 01, 2020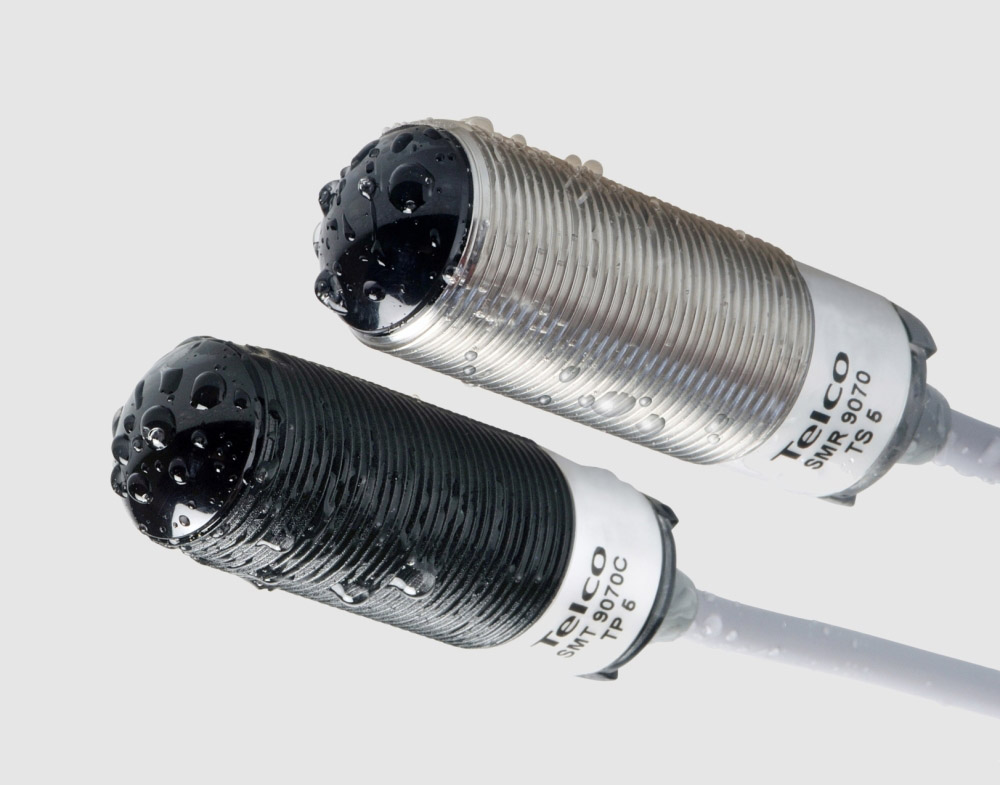 The SM 9000 series is a high-power self contained, thru-beam photoelectric sensor line from Telco. Telco's SpaceMaster SM 9000 series, offers superior optical performance and power with a sensing range of 70 metres with high excess gain. The sensors are housed in a compact M18 threaded cylindrical housing available in plastic or high-grade stainless steel housing material.

The units are fully encapsulated to provide a robust construction and guarantee superior durability, ensuring maximum resistance to extreme vibrations, shock and impact. The IP 69K rating together with its high-power infrared beam, ensures that the sensors operate reliably even in the harshest environments including high-pressure wash, water spray, heavy fog, mist, dust, dirt and industrial contamination. Furthermore, the unique contamination-shedding lens design, a signature Telco design, reduces build-up of contamination and water on the front lens. The optical design of the SM 9000 guarantees easy alignment of the sensor pairs.

The complete range offers a supply voltage of 10-30 V dc and offers a 5-wire, NPN, PNP or Solid-State output with a choice between light or dark operation. The transmitter includes a control input which may be used for either disabling or enabling the transmitting power for test purposes (test input), multiplexing applications or as an external regulation of the transmitting power level.

The SM 9000 series features cross-talk elimination which enables up to 4 individual sensor pairs to operate independently to ensure that optical cross talk interference between the sensor pairs is prevented. This is configurable with the use of a simple 2-wire external channel selection in the transmitter and receiver sensor pair. No electrical synchronisation / connection is required between the transmitter and receiver sensor pairs, as they are configured independently. This makes the system ideal for installations where sensor pairs are installed in close proximity with each other - whilst not compromising the performance of the sensor pairs.

The sensors are available with either a cable connection (5 m or 15 m) or 10 cm pigtail with a moulded 5-pin, M12 plug for quick-disconnect assembly. The range includes LED monitor indicators in the rear of the sensor body which are visible from the top, back and sides. Power-on indicator in the transmitter unit and output indicator in the receiver unit.

The advanced circuitry of the sensors provides the highest EMI/RFI noise immunity of any non-synchronised transmitter and receiver sensor pair. Furthermore, the system is designed with a high light immunity of 100k lux (at 20 deg. incidence) promising problem-free operation even with direct exposure to extraneous light.

The SM 9000 is optionally available to comply with ATEX II 3 G Ex nA IIC T6 Gc and II 3D Ex tc IIIC T100 °C Dc, by adding "/EX" after the series number.
The series is also available with UL approval for Class II, Division 2, Groups F and G Hazardous Locations (E488233), by adding "UL-EX" after end of type name e.g. SMT 9070C TS 5 UL-EX.


Contact a Telco specialist for enquiries for the SM 9000 series
Email: sales@telcosensors.com

Click on the link below to download the SM 9000 series data sheets.
Contact Us
Get in touch with Telco by clicking here and filling out our contact form. One of our dedicated representatives will get back to you shortly